Masjid Saad Youth Group
In 2009, Masjid Saad Foundation established the Masjid Saad Youth Group (MSYG) to empower youth, give them a place of their own, and provide a nurturing and supportive environment for them to grow and flourish.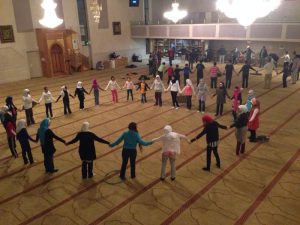 Mission Statement:
To empower youth to grow, lead, and own the future!
Masjid Saad Youth Group Weekly events
Every Tuesday (MSYG Sisters Basketball Program from 7pm –  9pm) (Ages 13+)
Every Thursday & Saturday (Youth Boys Basketball From 7:30pm – 11pm) (Grades Freshman to Senior Only)
Every Friday (Youth Halaqa, Ages 10+, at 6:30pm)
Every Friday (MSYG Mens/Youth Volleyball from 7pm to 10pm)
M.S.Y.G. strives to establish activities, guided by the holy Quran and the ways of our prophet Muhammad (S), that allow the youth to grow, flourish, and become the leaders of tomorrow. Generations of young people from MSF have gone on to become very successful in their professional lives and in their Muslim communities as well. The energy of our youth should be harnessed and channeled appropriately into developing a stronger future community.